Tired of driving in traffic,
finding a place to park,
waiting for a shuttle,
and then running to your gate to catch a flight?
We are conveniently located 15 minutes east of Cleveland at the Willoughby Lost Nation Municipal Airport where you will find free, secure parking and direct access to your waiting aircraft and crew.
Are you sick of cramped, uncomfortable seating, the inability to sleep or get any work done, and arriving at your destination drained and feeling unproductive?
Our Cessna 414A Chancellor is a cabin-class, heavy twin engine aircraft that features a pressurized, air conditioned cabin and a large, stair-equipped door for easy entry. With comfortable leather seats arranged in a conference configuration and fold-out tables, it can also serve as an airborne office during business travel.

Situated at a price point between our 414A and our Learjet 31A charter aircraft, our Cessna CitationJet is perfect for those looking for jet performance and comfort at an affordable hourly rate. The CJ seats up to 6 passengers in comfortable plush leather seats and will get you into smaller airports close to your destination…and above the weather.

We operate two Learjet 31A aircraft. The Lear 31A is a modern fan jet that features state-of-the-art technology and superior comfort. It is one of the most cost-effective transport category aircraft in operation today. It is the ideal choice for the executive who demands both speed and luxury in a light jet.


Have you had it with the hassle of business travel: Long lines, TSA checkpoints, delays, connecting flights and hectic schedules?
Let our experienced and professional flight crews fly you directly to the airport nearest to your final destination, on your schedule, where your rental car or limo will be waiting. Running late? No worries…we'll wait for you!
Get a Free, No-Obligation Quote
Plan your next trip with Classic Jet Charter. For a free, no-obligation quote, please submit the form below, or contact our customer service manager Erin at 877-204-0190 or ehoefle@driveclassic.com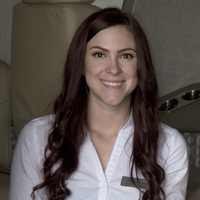 Erin Hoefle